Larry J Dunlap
Book 1 – Things We Lost in the Night, A Memoir of Love and Music in the 60s with Stark Naked and the Car Thieves
Thanks for visiting. For the last few years, I've been writing a memoir of my experiences in Stark Naked and the Car Thieves, a traveling rock band on the west coast in the latter half on the 1960's. Detailing our adventures from my perspective has become a journey all on its own.
NIGHT PEOPLE, the first of two books from Things We Lost in the Night: A Memoir of Love and Music in the 60s with Stark Naked and the Car Thieves is available at Amazon.com. Book 2: Enchanted is set for publication in early 2017. To be notified of Early Release schedule sign up at this link: LarryJDunlap.com/EmailUpdates.
READ FIRST SEVEN CHAPTERS FREE!
Here's an easy way to preview NIGHT PEOPLE! Click on the COVER BELOW for an easy-to-read seven chapter sample of Night People, or send it right to your Kindle device.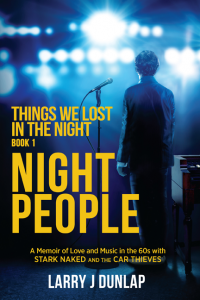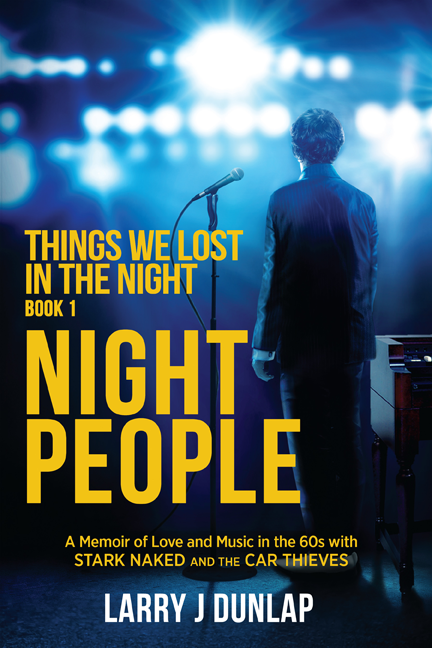 A YOUNG SINGER AND HIS FRIENDS experience the transformative power of love and music in California and Las Vegas in the 1960s entertainment business – if you liked memoirs from Carly Simon, Keith Richards, Patti Smith, Tommy James, and "The Wrecking Crew," you're sure to enjoy Night People.
"Instead of sharing a life with the woman I'd expected to be married to forever, my friends and I shared a dressing room, divided by thin wallboard, with a covey of topless showgirls and dancers." Read more …
Larry J. Dunlap's NIGHT PEOPLE Added to Claremont Authors Selection
The Friends of the Claremont Library, in partnership with the Claremont Public Library, is pleased to announce their inaugural Claremont Authors Book Faire, to be held on Saturday, September 24, 2016, from 10:00 AM to 1:00 PM at the Claremont Public Library.
Contributing authors to the Book Faire include such notable Claremont authors as Jill Benton (biography), Chris Rubel (fiction), Allen Callaci (memoir), Diana Linden (art history), Joel Harper (children's literature), Joe Woodward (biography/local history), David Allen (local history), Monique Saigal-Escudero (memoir), Paul Steinberg (environmental policy), Larry Dunlap (memoir), read more
NEW EDITORIAL REVIEWS
"Dunlap's sense of transcendence is similar to the sensation Keith Richards describes in his memoir, 'Life: ' …you leave the planet for a while…' Reliving his rock and roll years in his wonderful memoir, NIGHT PEOPLE,' Larry Dunlap, must have left the planet for a while, too." I loved it and highly recommend it.       — Kiana Davenport, The Spy Lover, Shark Dialogues
"Whether or not you remember the swift intoxicating music of that era or the seismic shift of mores that burst from the free-love movement, [NIGHT PEOPLE] captures the beat of that misty time when the country suffered "a growing thirst for individual freedom, a desire to escape from an ever-darkening shadow of war, and a national hangover following the public murder of a young and popular president."      — C.D. Quyn, Steph Rodriguez, Manhattan Book Review
"Do you watch Dennis Leary's new FX show "Sex&Drugs&Rock&Roll" about a crazy old time rock-in-roller? Larry J. Dunlap lived it. His memoir, NIGHT PEOPLE, is a frank, funny, frenzied chronicle of the 60's music scene."   – Susan Shapiro, New York Times bestselling author, Lighting Up, Only as Good as Your Word and Five Men Who Broke My Heart.
"Dunlap relates much of the story through conversations, and his California journey features a number of memorable characters. [Night People] … is an enjoyable hangout book, a chance to spend time with witty characters at that point in their lives when success feels so close, but the path to get there isn't quite clear."       –  Jeff Fleischer, Foreword Reviews Magazine, Fall Issue 2015, Memoir ForeSight section
"…Larry J. Dunlap faithfully, endearingly, recreates his rock-and-roll years [in Night People]. He does it in a soaring, roaring prose, reminiscent of Patti Smith's National Book Award-winning memoir, 'Just Kids.' "    — P.J. Colando, Stashes
NIGHT PEOPLE is a well-written memoir that deftly captures a sense of the 1960s and what it meant to be an aspiring musician during a time of seismic cultural change.           D. Donovan, Senior Reviewer, Midwest Book Review
WHAT READERS ARE SAYING!
One of the best biographies written by a musician!
A Riveting, Mythic, Rock and Roll Memoir
Wonderful! Excellent Read!
Thoroughly Entertaining.
A Great Read
A Window Into a Fascinating Era
Rock and Roll, baby!
A Must Read
A Great Read About An Exciting Life
Music Has Found Me Again
SO Worth Reading!
My Life Seemed Extremely Boring After Finishing "Night People"
Lessons of Life, Love, and Sex in the 60s
Genuine, Exciting, Graphic and Memorable – life in the 60's
Fantastic Coming of Age Memoir!
Compelling
Great Look At An Era
Meant to be savored
Engrossing
Rock and roll band life
Brilliantly crafted
Passion for music
Car Thieves take me away!
ON THE SITE
There are several items on the site relating to the books that you might find them interesting. Here is a newly re-mastered PLAYLIST OF SONGS mentioned in the book as we were recording them, and a few of the early homemade sessions with the vocal group before Stark Naked and the Car Thieves. Read the Larry J Dunlap Blog, which posts periodically. If you want to know more about me, and why it fell to me to write this story you can visit Meet Larry. For more information on our Privacy Policy, please access this link.