Larry J Dunlap
Book 1 – Things We Lost in the Night, A Memoir of Love and Music in the 60s with Stark Naked and the Car Thieves
Thanks for visiting. For the last few years I've been researching and writing a memoir about my experiences in Stark Naked and the Car Thieves, a rock band traveling the west coast in the latter half on the 1960's. Detailing our adventures, especially mine, has become a journey all on its own. NIGHT PEOPLE, the first of two books from Things We Lost in the Night: A Memoir of Love and Music in the 60s with Stark Naked and the Car Thieves is available at Amazon.com. TWLitN Book 2: Enchanted is set for release in early 2016.
There are several items here on the site relating to the book and its time and place. I hope you'll find them interesting. Here are a few Excerpts from the book, some in audio format, some Blurbs, and the First Five Chapters, available under the THE BOOK menu, as well as a Playlist of Songs mentioned in the book as we were recording them, and information in the Larry J Dunlap Blog posts on a regular basis. If you want to know more about me, and why it fell to me to write this story you can visit Meet Larry.
LATEST NEWS FOR READERS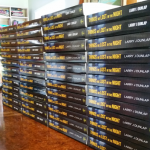 FOREWORD REVIEWS, a national literary and indie catalog has chosen to feature NIGHT PEOPLE in it's Fall catalog in their Biography/Memoir section along with seven other books. It's an honor and includes the second national review for the book. The Foreword Review magazine/catalog is racked in most Barnes & Noble bookstores, Books-A-Million, many independent stores, and reaches 11,000 libraries.
NIGHT PEOPLE was a featured selection at the ALA (American Library Association) Exhibition in San Francisco last month.
New Editorial Reviews
– Mamta Madhavan, reviewer for Readers' Favorite
"Many moments in the author's life are poignantly mingled with misery, happiness, music and sex. I found the book interesting as it speaks about music, the band, recordings and many other things related with music. The challenges the author faces in his life and his love life and other casualties make this memoir a very exciting read."
– Foreword Review Catalog, 2015 Fall Issue, Memoir ForeSight Section (excerpt)
"Dunlap relates much of the story through conversations, and his California journey features a number of memorable characters. [Night People] … is an enjoyable hangout book, a chance to spend time with witty characters at that point in their lives when success feels so close, but the path to get there isn't quite clear."
---