Larry J Dunlap
Book 1 – Things We Lost in the Night, A Memoir of Love and Music in the 60s with Stark Naked and the Car Thieves
Thanks for visiting. For the last few years I've been writing a memoir of my experiences in Stark Naked and the Car Thieves, a traveling rock band on the west coast in the latter half on the 1960's. Detailing our adventures, through my perspective, has become a journey all on its own.
NIGHT PEOPLE, the first of two books from Things We Lost in the Night: A Memoir of Love and Music in the 60s with Stark Naked and the Car Thieves is available at Amazon.com. Book 2: Enchanted is planned for release in 2016.
READ FIRST SEVEN CHAPTERS FREE !
Here's a great way to preview NIGHT PEOPLE! Click on the COVER BELOW for an easy-to-read seven chapter sample of Night People, or send it right to your Kindle device.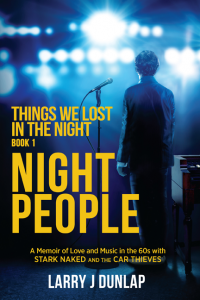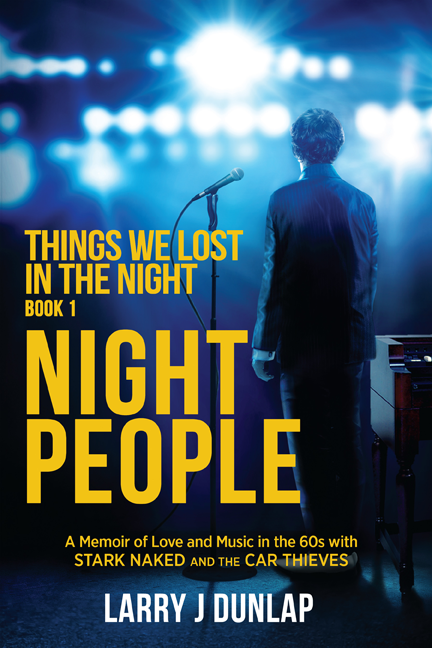 LARRY J. DUNLAP DELIVERS a fast-moving, romance-filled memoir of a young singer and his friends search for success in the 1960s music business of California and Las Vegas – if you liked memoirs from Carly Simon, Keith Richards, Patti Smith, Tommy James, and "The Wrecking Crew," you're sure to enjoy Night People.
"Instead of sharing a life with the woman I'd expected to be married to forever, my friends and I shared a dressing room, divided by thin wallboard, with a covey of topless showgirls and dancers."
NEW EDITORIAL REVIEWS
"Dunlap's sense of transcendence is similar to the sensation Keith Richards describes in his memoir, 'Life: ' …you leave the planet for a while…' Reliving his rock and roll years in his wonderful memoir, NIGHT PEOPLE,' Larry Dunlap, must have left the planet for a while, too." I loved it, and highly recommend it.       — Kiana Davenport, The Spy Lover, Shark Dialogues
"Whether or not you remember the swift intoxicating music of that era or the seismic shift of mores that burst from the free-love movement, [NIGHT PEOPLE] captures the beat of that misty time when the country suffered "a growing thirst for individual freedom, a desire to escape from an ever-darkening shadow of war, and a national hangover following the public murder of a young and popular president."      — C.D. Quyn, Steph Rodriguez, Manhattan Book Review
"Larry Dunlap lived it. His memoir 'NIGHT PEOPLE' is a frank, funny, frenzied chronicle of the 60's West Coast music scene."      — Susan Shapiro, New York Times bestselling memoirist, FIVE MEN WHO BROKE MY HEART, GOOD AS YOUR WORD, OVEREXPOSED


WHAT READERS ARE SAYING!
One of the best biographies written by a musician!
A Riveting, Mythic, Rock and Roll Memoir
Wonderful! Excellent Read!
Thoroughly Entertaining.
A Great Read
A Window Into a Fascinating Era
Rock and Roll, baby!
A Must Read
A Great Read About An Exciting Life
Music Has Found Me Again
SO Worth Reading!
My Life Seemed Extremely Boring After Finishing "Night People"
Lessons of Life, Love, and Sex in the 60s
Genuine, Exciting, Graphic and Memorable – life in the 60's
Fantastic Coming of Age Memoir!
Compelling
Great Look At An Era
Meant to be savored
Engrossing
Rock and roll band life
Brilliantly crafted
Passion for music
Car Thieves take me away!
ON THE SITE
There are several items on the site relating to the books that you might find them interesting. Here is a newly re-mastered PLAYLIST OF SONGS mentioned in the book as we were recording them, and a few of the early homemade sessions with the vocal group before Stark Naked and the Car Thieves. Read the Larry J Dunlap Blog, which posts periodically. If you want to know more about me, and why it fell to me to write this story you can visit Meet Larry.