THINGS WE LOST IN THE NIGHT,
A Memoir of Love and Music in the 60s
Larry J. Dunlap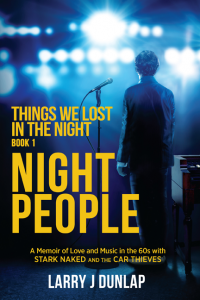 (Published June 15, 2015) FIFTY YEARS AGO, a young singer from the Midwest finds himself unexpectedly thrust into the chaos of San Francisco's historical musical and cultural revolution with his three vocalist friends. He leads the group's struggle to form a band, then to survive the rough east bay dive bars, though not without personal sacrifice—Larry loses his wife, the girl he's loved since high school, and two young sons in a family power struggle. The band achieves success in a year-long contract at a mob-operated nightclub at the pinnacle of San Francisco's North Beach nightlife, and learn professionalism—at the point of a gun. Larry meets a Chicana girl who eases his loss and will become his lover and companion over the next three years.
In Hollywood, celebrity managers discover the band, and they appear in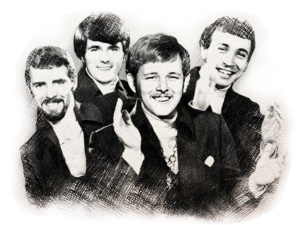 star-studded clubs and record in Hollywood studios. They are chosen to open mega-casino, Caesars Palace's newest showroom/lounge–the first rock band to play in a major Las Vegas hotel. As the band prepares for their first record release, crises arise as Larry is suddenly inducted into the army with what seems to be a sure ticket to Vietnam, the band nearly starves when engagements fall through and agents let them down. They grapple with finding the right mix of band members, but the original four vocalists from the Midwest always stick together through the difficulties. Though the band's success seems assured, Larry's romantic relationship is ending, as their next record, Look Back in Love, is already picked to hit the top of the Billboard charts. When the band returns from their engagement in Hawaii, it seems inevitable that Stark Naked and the Car Thieves will soon take its place in the pantheon of nationally famous recording artists.
AMAZON REVIEWS FOR NIGHT PEOPLE, Book 1 (follow link)
GOODREADS REVIEWS FOR FOR NIGHT PEOPLE, Book 1 (below)
(AVAILABLE NOW!) Honolulu is a war town, the Viet Nam Waris at it's most violent and it's being staged from Oahu, Hawaii. During their engagement in Waikiki, Larry discovers that beneath the exotic beauties of the island of Oahu lurks danger at every turn. A near-death drowning experience and a dramatic night of love and romance immersed in island magic are burned into memory. He must confront sex traffickers to protect an innocent girl as nightly, he and his friends learn firsthand of the horrors of the deadly conflict he barely avoided. As the band returns to the mainland, expectations for a new hit record guaranteed, the band returns to its roots in Indianapolis for the first time. It's not the homecoming he expected. As the band seeks elusive fame in their recording career, success continues as they begin long-term contracts at new dance-showrooms built for them at the Flamingo and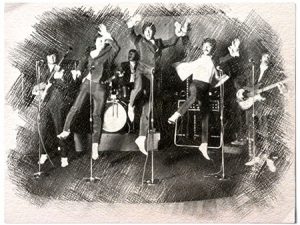 International Hotels in Las Vegas, where they are surrounded by celebrity and success. Larry's chance at a forever-love with his new wife blooms with the birth of their young son. When a chance to record the theme of a new major movie, it seems Stark Naked and the Car Thieves' will finally achieve ascent to national recording fame. But, when everything changes, he must find a way to save his dream marriage, his band, even his life and sanity—before the music ends.
– Larry J. Dunlap
---