Songs from Things We Lost in the Night
PLAYLIST FROM TWLitN
Stark Naked and the Car Thieves, or the vocal groups that proceeded it: The Aristocats, the Reflections, and–for one short New York minute–the Illusions, recorded the twenty-one songs below. All of them are referred to in Night People and/or Enchanted, the books that make up THINGS WE LOST IN THE NIGHT. 
The first 3 songs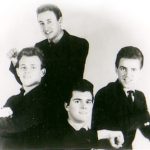 "#1 Connie-O," "#2 Just Two Kinds of People," and "#3 Big Girls Don't Cry" were recorded in 1962 while we were a young vocal group calling ourselves the Aristocats, as part of an audition tape for the Shindig! TV show. We'd found a notice in a music magazine that a new TV music show featuring popular music was looking for a backup vocalist group was requesting audition tapes to be sent to Jimmy O'Neill at a Hollywood, California address. Though we never heard back from Jimmy (btw, this tape did turn into a trip to New York City, and an entirely different story), we were eventually 'discovered' by Jimmy O'Neill as Stark Naked and the Car Thieves in a club in the San Fernando Valley five years later, 1967. Fate moves in odd and mysterious ways.
Songs 4 and 5
Song #4, "Don't Worry Baby," a Beach Boys cover, was the first song we recorded at Jan Hutchens' studio in 1963 as a test of his new studio. Jan took it to WIBC radio in Indianapolis and one night, Bouncin' Bill Baker created a contest, asking listeners to name the artist. Everybody responded it was the Beach Boys but they were wrong. None of us had heard this song since we'd recorded it until recently in March of 2016, when I stumbled upon Keith Murphy, an old friend who recorded with Jan in Indianapolis at the same time we did. I never in this life expected to hear this recording again. He had it on an old tape left over from Jan's studio and was kind enough to share it with us. It's not the best quality and has a little hiccup in it, but its a miracle that we ever got to hear it at all. Perhaps he can pull a better version of it off the master for me someday. Song #5, "There He Goes," as recorded by 15-year-old Mona Thomas and produced by Jan Hutchens with us doing "Leslie Gore" style back up vocals.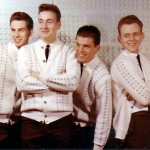 The next 4 songs
These were our first two record releases. They were recorded in Indianapolis and produced by Jan Hutchens. The first one, "#6 In The Still of the Night," b/w  #7, "Tic Tok," was recorded in late 1963 and managed an escape to the public on Jan's own Tigre Records label. It nearly brought us great success  We'd just changed our name to the Reflections then, and it was about to become a national breakout when disaster struck, as covered in Enchanted. In hopes of recovering from that error, Jan got a song from his friend, Larry Huff ["Easier Said Than Done," by the Essex], and we learned and recorded "#8 In The Beginning," one night with Dave doing his best Frankie Valli imitation. Jan was in such a rush to get it out while our name was still hot with the deejays, but before he could, the Reflections from Detroit hit with "Just Like Romeo and Juliet." So he decided we'd be called the Illusions. He was in such a hurry that he just grabbed a song by Rick Fortune, another guy in his "Indy Sound" stable, "#9 Maybe (I just may be wrong)," and slapped it on the back for a B side. It came out on Laurie records on the East Coast, but those of us who'd recorded it had never known it had been released for 50 years. A record collector friend named Bob Pegg, helped me locate this record and clear up the mystery of who was on the back of this record. Thank you, Keith and Bob, for helping to solve a couple of mysteries I never expected to find the answers to.
Songs 10, 11, and 12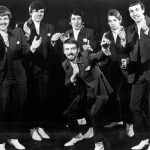 #10 "Back To Summerplace" is a cover of the Lettermen's 1965 hit, though both #11 "Tonight (Could be the night) were songs we'd learned as the Aristocats. #12 "Cara Mia," was a big crowd favorite in the venues we played. We recorded them 'live,' straight to acetate, at what I now know is "Columbus Recorders" (thanks to Jerry Burgan from the We Five), the Kingston Trio's studio. There were no overdubs or sweetening, we were just mic'd up and the recorder turned on. We were at the Galaxie nightclub in North Beach at the time, and we weren't thrilled with them, but they came in handy when Jimmy O'Neill asked if we had a demo tape for Ed Cobb.
Songs 13 and 14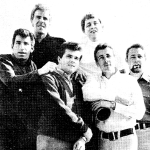 "The Pleasure of Your Company," #13, was written and produced by Ed Cobb. This record was released to regional success on the East Coast and got our recording reputation started. It's B side, #14, "Maria, Love and Music," was the song we thought would be our the best chance, but we failed to get the sound out of the studio we'd hoped for, for reasons related in Night People.
Songs 15 and 16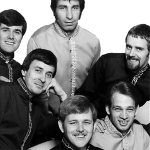 #15 "Look Back In Love" b/w #16 "Contact" was practically guaranteed to hit. It was picked by Billboard to hit the top of its charts in April of 1965, and a "Can't Miss," by all the radio programmers polled around the country. History happens, and this record didn't. You can read more about its fate in the second book, Enchanted.
And 17 and 18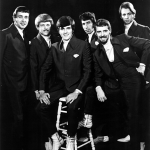 "Can't Stop Thinking About The Good Times," #17, a Mac Davis song, b/w #18, "Now A Taste of Tears" never got any traction. The band took it hard and our relationship with our production company was on shaky ground. I had my ideas on what we should do about it, after all the Beatles, and the Stones, and Mamas and Papas, and it seemed like all the bands had figured out how to tap their creativity, I started thinking about ways we could do that.
Songs 19 and 20
"Mixed Emotions," #19, could have been a huge hit for us, it was right in Dave's wheelhouse. The song was originally planned as the main theme for a movie, but, as often happens with movies, the funding fell through. Great arrangement, fantastic Wrecking Crew musicians, but Dave's voice was shot for this song, and somehow the whole thing got over-produced. Song #20, "What Is A Youth," recorded a few months later, is a love song from the movie Romeo and Juliet, and is a personal favorite of mine. Not that it could have ever been a hit, but recording this song with Dave and Les in the studio felt like the early days of concentrating on tight harmony in Indianapolis for me.
Song 21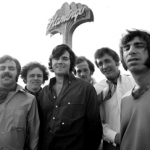 "Walking In The Rain" is the song I always thought we should have covered and never did. Here it is in 1970, live at the Flamingo Hotel in Las Vegas.