THINGS WE LOST IN THE NIGHT, A Memoir of Love and Music in the 60s with Stark Naked and the Car Thieves – Larry J. Dunlap
Thanks for visiting. This website is for a two-book memoir of my experiences in Stark Naked and the Car Thieves, a traveling rock band on the west coast in the latter half on the 1960s. Detailing our adventures from my perspective became a journey all on its own. NIGHT PEOPLE, the first book from Things We Lost in the Night: A Memoir of Love and Music in the 60s with Stark Naked and the Car Thieves is available at Amazon.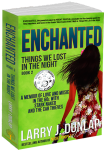 ENCHANTED, the concluding book of Things We Lost in the Night Duology, picks up where NIGHT PEOPLE ends. The band arrives in Hawaii in the spring of 1968 sky high with the news of Billboard Magazine picking their new record release, "Look Back In Love" to debut high on the Hot 100. Honolulu is a military town, packed with soldiers on temporary R&R or arriving to fight as the Vietnam War heats up. In this intense atmosphere, Stark Naked and the Car Thieves' songs wake dramatic emotions in many of the warriors, some fresh from jungle firefights. Encounters reveal deadly dangers hidden beneath the lush beauty on this exotic island that change the trajectory of my life. Soon the band experiences the heights of success in Las Vegas Hotels playing alongside and for Tom Jones and Elvis Presley though the high hopes for their recording career continue to be dashed. But I was certain I knew the answer if I could only convince the band.  CONTACT ME FOR FREE eBOOK REVIEW COPIES TODAY!
READERS FAVORITE awards ENCHANTED, Book 2 a 5-STAR REVIEW!
READ POST HERE
[Excerpt #1 from Ch 5 – SANDY BEACH] 
Leonard waved out the window. "You're frickin' lucky you're getting to see this, you know." We gazed down on the top of a cloud cell in a distant valley, where rain fell in a spectacular, rainbow-producing shower. I wondered what new calamity was being inflicted on the land beneath it.
     We entered and exited a pair of tunnels near the top of the Pali, and Leonard negotiated the descending zigzag road through intermittent showers. Foliage, thinner on this side of the mountain, slipped by our windows as we skirted east around Honolulu toward the distant ocean. I sensed Leonard's attempt to read me, his anger gone, long lines carved on his face.
     "You do get that I couldn't have saved you, don't you? If I'd gone into the surf after you, I would have drowned along with you. You do know that, right?" I nodded dreamily. I knew. I'd never really blamed him for my lack of impulse control and idiocy. I should have absolved him then, but soul-seared, still somewhere between this life and the next, I couldn't bring myself to speak. GET YOUR FREE eBOOK REVIEW COPY TODAY!
[Excerpt #2 from Ch 30 – LIBERACE'S TAILOR]
T

hree Chinese men came out from the back, yellow measuring tapes strung around their shoulders, and took us three at a time to workstations for a session lasting most of two hours. We were measured in every direction imaginable, some starting at the forehead and extending out  to fingertips, and down to heels, or toes. The tailors approached fitting more like engineers, noting everything down in their small notebooks.
     "Which way you dress, mister?" said the man crouching below me.
     I wasn't sure what he meant. "Ah, right-handed."
     "No, no." He scowled, gesturing at my genitals. "What way you dress?"
I cringed a little, uncomfortable with a man kneeling in front of me giving my crotch his full attention. He glared up at me in frustration and spoke sharply in Chinese
John Lieu stepped over to explain. "He want to know what side your stuff, your privates, hang on when you put on pants." He stared down at me. "Right now, I think you dress left. You comfortable that way?"
     "Oh. Okay, I get it," I said, aware for the first time of an organizing principle I dealt with every day without thought.        
     "Yeah. I dress left, definitely."
John spoke to his assistant who nodded in dour satisfaction. Without warning he reached out to cradle my family jewels in his palm, giving them a quick, professional heft before I could flinch away. He scratched squiggly Chinese characters into his little book.
     "He need to know how much room to leave for resting genitals," John reassured me. "We want pants form-fit, but not crowd, you know, and not show too much." 
     Before I'd quite gotten over that shock, my tailor, as I now possessively thought of him, whipped off his yellow tape again, and moved behind me to measure my buttocks from every conceivable angle. It was strange to see a Chinese guy writing down more about my body than anyone, except possibly Theresa, knew. GET YOUR FREE eBOOK REVIEW COPY TODAY!
EDITORIAL REVIEWS FOR THINGS WE LOST IN THE NIGHT MEMOIR
Aug 27, 2019
In this electric, surprisingly moving memoir, Dunlap takes up where he left off in Things We Lost in the Night and recalls his final years as a member of Stark Naked and the Car Thieves band.
Dunlap talks about Elvis and Streisand's glory days in Las Vegas; the raw beauty of Hawaii, the insecurities, fears, and hopes of his band and their struggle with finding their original voice. Along the way, come his own struggles, his fractured relationship with his wife, his heartache, and a growing sense of despair as the band's hopes of attaining recording success shatter.
With its bracing honesty and captivating prose, the memoir also serves as an interesting study in the 1960s music business of California, Las Vegas, and Hawaii.
Dunlap is an informed narrator, and this exciting, passionate memoir will appeal to readers whether they're fans of memoirs or not."
   –THE PRARIES BOOK REVIEW
Enchanted, Book 2 of Larry J. Dunlap's romantic memoir series Things We Lost in the Night …
…follows NIGHT PEOPLE, the first book in the series documenting his band's continuing climb toward national recording success on the West Coast in the 1960s. To get a sense of the flavor of the story, think Kerouac's On The Road, then add the best elements of rock star memoirs to the mix. The final three years of Dunlap's band's successes and disappointments are charted with an attention to detail that gives you the feeling "you are there." Woven into the band's journey is Dunlap's personal love story beginning with an intense romantic encounter in Hawaii through marriage and fatherhood to the drama of the final chapters. 
"As their popularity grows, the Flamingo Hotel in Las Vegas builds a venue designed for them, the Sky Room, where international stars and celebrities turn up nightly. ("We'd begun leaning into 'Five O'clock World,' as the set opener, when Elvis Presley, Tom Jones, and Big Jim Sullivan arrived trailing followers like a mass of droning bees swarming their queen. The maître ds efficiently interceded and escorted them to a cordoned-off table about halfway back near ringside. Las Vegas royalty had deigned to visit the Sky Room.")
Readers anticipating a story of hobnobbing with musical celebrities should understand that Dunlap's personal life is as much in the spotlight, here, as his professional evolution. As he faces the challenges involved in balancing both parts of his life during the band's meteoric rise, readers receive solid insights into the costs and impact of fame and aspiration. They will appreciate the blended focus on public and private life which crafts a music memory more multifaceted than most.
Dunlap juggles family demands with career choices that range from personality clashes to the challenge of crafting an original sound in a sea of competing music groups. Musicians will well recognize many of the obstacles to success that face this group, as well as the author's determination to pursue new creative paths to take more control over their national recording goals. As the danger of losing his family looms, and the band threatens to implode, the author relates a trail of growth experiences, revelations, personal insights, and souvenirs of his life in a memoir that is especially recommended reading for anyone who wants a true-life story of a musician's growth both on stage and off."
    –-D. Donovan, Senior Reviewer, Midwest Book Review
"AND WHEN THE SPELL BREAKS …
This book and this series is for anyone who's made a terrible mistake regarding people they love. It's also a book for someone who's been crushed beyond endurance by one they trusted, and how they go on. Larry Dunlap takes us on many journeys and does so with an intent to do justice to the trust we've put in him for the ride. The jockeying and insecurities and squabbles of the band, the vast distance from performing to recording and the players and influences in the process, Las Vegas during Elvis and Streisand's time, native Hawaiian home life, love-making that makes you feel a nun by comparison—read Enchanted for all of this.
But the raw humanity of Larry knocked flat by loss and regret, and the f*ed-up place life becomes when he can't even recognize himself—THIS is the beauty and the backbone of this book. And this why we read, to connect with someone who manages to find words for our crazy wordless lonely journey. Enchanted goes there…and I believe you'll find yourself along the way.
    -Amazon Reader Review March, 13, 2019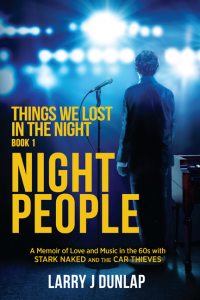 NIGHT PEOPLE, BOOK 1, IS A FAST-MOVING, ROMANCE-FILLED MEMOIR of a young singer and his friends search for success in the 1960s music business of California and Las Vegas – if you liked memoirs from Carly Simon, Keith Richards, Patti Smith, Tommy James, and "The Wrecking Crew," you're sure to love NIGHT PEOPLE.
[Excerpt from THE SUNSET LA BREA TRAVELODGE]
We took our pizza and soft drinks up to Mulholland Drive on the crest of the Santa Monica Mountains, where a carpet of lights spread out over Hollywood and off to the ocean to the southwest. The muted rumble of the great engine driving this mammoth city, unnoticeable down below, reached us up here. By the time we'd parked, it was eight o'clock and we should have been on stage at Gazzarri's with our band brothers. We hadn't even warned them, but then we hadn't known we'd crack.
    We shared pizza out of the box and drank our Cokes, watching the night deepen and the cloud cover roll in until the lights below were more like a blanket of stars fallen to earth. It was quiet, and I felt drained and empty. I pulled out a couple of tightly rolled joints, thanks again to Trish's generosity, and handed one to Dave. 
    We smoked until I'd distanced myself enough to try and sort out what was bugging me. I sighed. "What are we doing, man?"
    "I'm eating pizza."
    I tried to make sense of my confusion. I began talking in a stream of consciousness, not knowing what would come out. 
    "I feel like we're doing something wrong, but I don't know what. I feel like it should be obvious to me, but I still don't know what it is. It's like, well you know, the place behind your eyes, in back of you, the place you never see because whenever you turn your head, it's always behind you. Well, I think it's like that. I mean whatever's wrong is right here with us, but I can't see it, even when I turn to look for it. Figuratively speaking, of course."
    "Uh-huh." Dave opened the pizza box and tilted out another pepperoni and sausage slice.
Here's an easy way to preview NIGHT PEOPLE! Click on the Book Cover, or here for an easy-to-read seven chapter preview, or send it right to your Kindle app or device.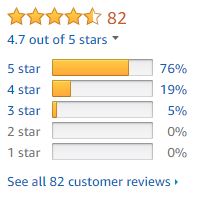 WHAT READERS ARE SAYING!
One of the best biographies written by a musician!
A Riveting, Mythic, Rock and Roll Memoir
Wonderful! Excellent Read!
Thoroughly Entertaining.
A Great Read
A Window Into a Fascinating Era
Rock and Roll, baby!
A Must Read
A Great Read About An Exciting Life
Music Has Found Me Again
SO Worth Reading!
My Life Seemed Extremely Boring After Finishing "Night People"
Lessons of Life, Love, and Sex in the 60s
Genuine, Exciting, Graphic and Memorable – life in the 60's
Fantastic Coming of Age Memoir!
Compelling
Great Look At An Era
Meant to be savored
Engrossing
Rock and roll band life
Brilliantly crafted
Passion for music
Car Thieves take me away!
ON THE SITE
There are several items on the site relating to the books that you might find them interesting. Here is a newly re-mastered PLAYLIST OF SONGS mentioned in the book as we were recording them, and a few of the early homemade sessions with the vocal group before Stark Naked and the Car Thieves. Read the Larry J Dunlap Blog, which posts periodically. If you want to know more about me, and why it fell to me to write this story you can visit Meet Larry. For more information on our Privacy Policy, please access this link.
[mbm_book_grid id="2387″]