Download Songs from Things We Lost in the Night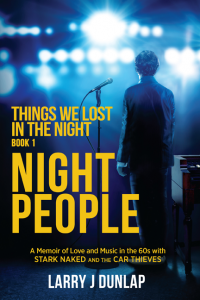 Night People, Book 1 – Things We Lost in the Night, A Memoir of Love and Music in the 60s with Stark Naked and the Car Thieves
by
Larry J Dunlap

eBook editions
Available at Amazon.com
Kindle eBook $8.95 / Paperback $14.95
Night People, the first book of Things We Lost in the Night, A memoir of Love and Music in the 60s with Stark Naked and the Car Thieves, an intimate literary memoir, follows the first three, of six, years in the life of a young singer and three vocalist friends from Indiana as they strive for success in a coming-of-age music and romance-filled journey in 1960-era California and Las Vegas.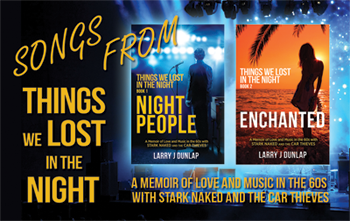 REDEEM YOUR COMPLIMENTARY SONGS FROM
Things We Lost in the Night HERE
[lbg_audio2_html5 settings_id='2′]
Select any of the 11 songs on the list to download them. Use the Downward error in the controls to begin downloading that song. You may need to scroll down to see all the songs. If you have difficulty with downloading, please contact us to let us know which songs you are have trouble with, and where you received the code.