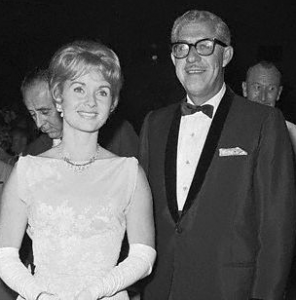 I didn't get to meet Debbie Reynolds the night she and her husband came to see us. My mistake, though our lead singer, Dave, had the honor. It happened on one of the most remarkable nights in our career as entertainers and musicians. We'd been hired by Caesars Palace in late December of 1966 to help open the re-imagined Nero's Nook Lounge nestled next to the new hotel's casino. It was a gorgeous showroom and the hottest ticket in town. I hadn't realized when I'd signed the contract that we'd be limited to singing ballads and mellow pop songs, like the Letterman. Another restriction in our contract forced us to appear as The Big Spenders instead of Stark Naked and the Car Thieves, another difficult pill to accept.
We decided we couldn't live with the constraints being placed on our performances any longer. The Saturday night we decided to break out and play our best material whether pop, rock, or rhythm and blues regardless of the consequences just happened to coincide with a night full of stars from movies and television, international personalities, and hotel headliners from all up and down the Strip. Behind the curtain, we stood nervous but excited. We couldn't be sure the audience wouldn't hate us, or the entertainment manager wouldn't close the curtain in the middle of the show. We risked losing our new 3-year contract worth hundreds of thousands of dollars (and in the end it did), but together, we'd made the final decision to be true to our nature in the dressing room before coming to the stage, so here we were.
We opened with an Otis Redding tune, "Can' Turn You Loose," if I remember correctly and moved through our version of Bobby Hatfield's "Unchained Melody." It was probably Sam and Dave after that, and we mixed in "The Way You Look Tonight," Letterman style, and on through the set list until we came to our closer. The audience response had been more than we could've hoped for so far. We'd worked long hours to perfect the Four Seasons "I've Got You Under My Skin," and I don't think the Seasons could've done it any more justice that we did that night. But the topper of the entire show came as we started into the song's dramatic ending. I've excerpted the following from Night People since I can't tell it any better …
"I tried to make out the figure moving below us through the blinding lights, until . . . wait—holy crap! That's Debbie Reynolds down there pulling on Dave's leg!

"Sing it, baby, sing it!" she yelled. A broad, encouraging grin spread across her face as he stood braced, high above her, to hit the high full voice note near the end of I've Got You Under My Skin. When we peeked through the curtain earlier, we'd seen Debbie Reynolds seated at an aisle table a few rows from the stage with her husband.

As Dave's ringing tenor swept high, and then higher, into a dramatic falsetto run, she'd stretched on tiptoe to grasp the only part of him she could reach, his left pants leg just above a white patent leather boot. Laughing with joyful spontaneity, she shook it back and forth, like a dog with a sock puppet.

Dave had to be as astounded as the rest of us, but he closed his eyes, pushed his mic farther up and out, and leaned back to let those golden pipes of his rip.

"I've got you . . ." Dave crooned a cappella, working into the final phrasing of the song with the movie star still hanging onto his pants leg, staring at him with a wide smile. I stole a glance at Mac, his eyes wide as beacons. I knew mine were just as big as we joined our voices with Les and Craig in building the ending harmony.

"Never win, never win . . ." The lounge erupted, peppering another standing ovation with yells and excited shouts that crackled over thundering applause. More people rushed to the front of the stage as we hit the big finish and took our bows while the frenzied uproar mounted to a pounding pressure.

I looked left toward the rest of the band, trying to take us in. Jackets from our dark suits lay rumpled around us. Purple-and-white polka-dotted ties hung loose or strewn across the stage or amps. Burgundy cuff links on our custom tailored white-on-white dress shirts sparkled in the brilliant light. Leonard was sopping wet behind the drums, his dress shirt translucent."
Debbie Reynolds put the icing on the cake for us that night. Her spontaneous encouragement and appreciation, more than anything else, endorsed our decision to let loose and show ourselves for who we really were. After the show, there was a note inviting Dave and the rest of us to her table. Dave beamed as he went out to meet her. Me? I'd chosen to go to Sammy Davis, Jr. who had also sent us a note. I'd recently read his autobiography, "Yes I Can" and wanted desperately to meet him, and that was a great privilege. But I sacrificed meeting one of the most amazing superstars ever to grace show business. Someone so full of life and so willing to share it, she'd rushed to the stage in front of everyone to express her excitement. To me, it's not just another Las Vegas anecdote, it's a moment of generosity I'll never forget. I'm sure I'm giving voice to all of us on the stage that night when I send a wish from us that she rest in peace knowing that ours were among the thousands and thousands of lives she touched.
Save
Save
Save