(Update from post in March 2011 – larryjdunlap.com/ljd-blog) An amazing thing has happened on YouTube. One of the things we all mourn is the loss of one the first music videos ever, which we did in Hawaii for "Look Back in Love" in 1968, the song was supposed to become our first big, national hit. Not only did it feature the band, but also the Hawaiian girl I met there and later married, (Things We Lost in the Night, A Memoir of Love and Music in the 60s, Book 2: Enchanted). I finally located the cinematographer who shot it but he told me it was lost in a fire.  It appears that there are many modern admirers of the band who have taken our music to YouTube. While noodling around on the web I somehow got to a wikipedia page that mentioned Jan Hutchins and Maurice Williams and the Zodiacs, and then a link to a YouTube video (below) that was weird. But first things first. Here is the first video to kick this montage off …
Look Back in Love
CLICK ON THE LINK BELOW TO SEE ALL THE YOUTUBE VIDEOS
What the horror comic pics have to do with this, I have no idea. But there is a whole little community of people interested in the music and the band.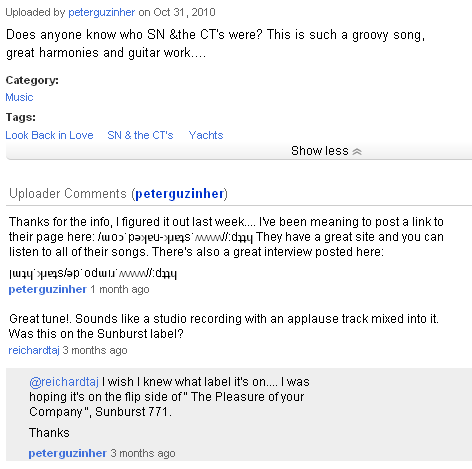 Apparently we're being researched. Some time ago I noticed that some of our recordings were in the "collectible" market. I thought that pretty interesting at the time. Maybe there is connected to that. Read on …
Look Back In Love in the UK …
So maybe someone else was aware of this, and I guess it it makes perfect sense, but I just never imagined a cover of "Look Back in Love". Especially from a Merseyside English band called The Yachts covered it 15 years or so later … And for your entertainment, here it is.
Our version, was apparently posted on YouTube not long ago, as a response to this video. But this led to more …
The Pleasure of Your Company is here too!
Here is a YouTube video of "The Pleasure of Your Company". But notice that pristine label and even the label cover! Wow. Note comments below. I have to believe that at least this audio was recorded for YouTube by the poster directly from the recording since I think its much better quality then what I uploaded back in the day.
Here are comments on this video …
In The Still of the Nite" still rocks.
This is pretty fascinating to me, and probably Dave. Somebody posted our Reflections version of "In The Still of the Nite" on YouTube. Sounds pretty good for the time.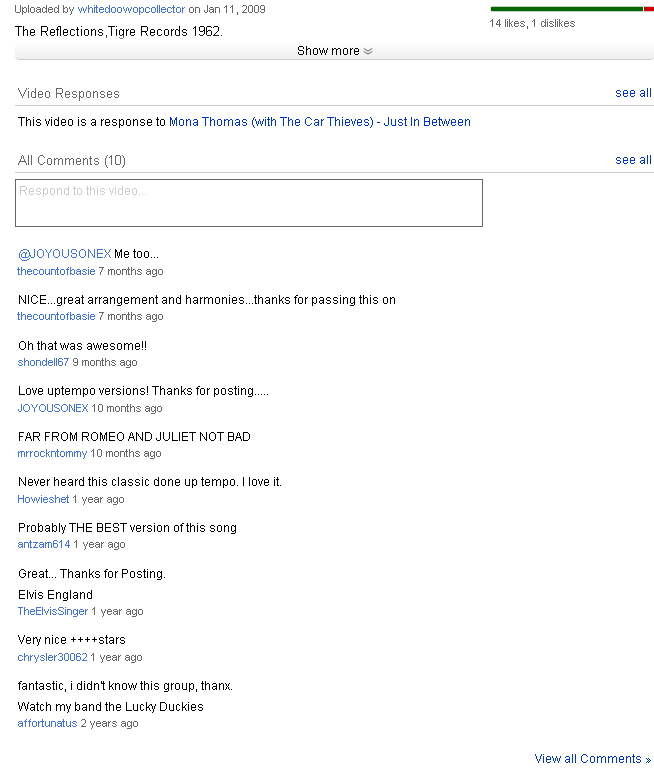 And the Mona Thomas songs are part of the Stark Naked lexicon
The Mona Thomas songs are included as links to Stark Naked and the Car Thieves. Here is "Just In Between". Once again, note the clean copies of record labels.
… and the, of course,  "There He Goes" …
I wouldn't have guessed to look for Stark Naked and the Car Thieves on YouTube since unfortunately, we don't have any video footage of ourselves at any stage of the band's career. It was a very interesting trip looking through these videos. Comments and related YouTube videos are welcome. I intent to invite the YouTubers who posted these back to this site. Maybe they will post some interesting information about their interest in the band. ^-^